CMAF¶
This document provides an overview of what CMAF is and how this is used within a VOD/Live workflow utilizing Unified-Streaming products. Further information on demostrations and tools enabling you to familiarise yourself with the benefits of using CMAF for Adaptive Bitrate streaming can also be found below.
What does the Industry say?¶
CMAF has been talked about widely within the OTT industry. Many peoples opinions can be read:
CMAF can be used for both media ingest and as presentation container format used for the delivery of both HLS and MPEG-DASH.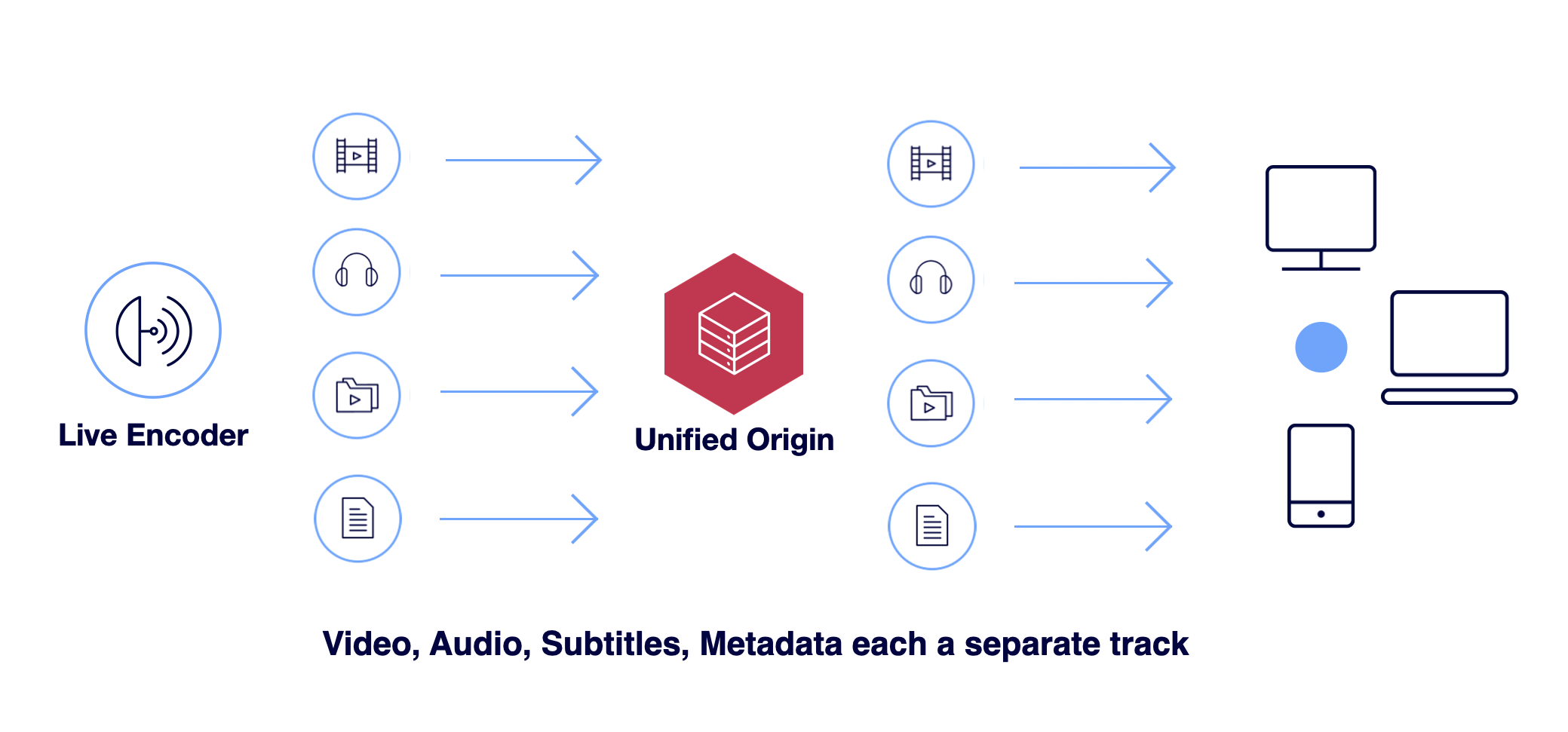 DASH-IF recently collaborated with FFlabs adding functionality in FFmpeg for the 'DASH-IF Live Media Ingest Protocol - Interface 1'. CMAF ingest can be tested by using the mp4 muxer configured with the additional options -movflags +empty_moov+separate_moof+default_base_moof.
The following demo FFmpeg Live Demo CMAF can be downloaded from Unified Streaming Github and ran locally (with a valid Unified-Streaming license).
Alongside the capability to deliver CMAF via the mp4 muxer, FFlabs also implimented the option to deliver CMAF using its HLS/DASH ingest. This follows the requirements outlined under Interface 2 of the DASH-IF Live Media Ingest Protocol.
A demo showing the delivery of HLS/DASH CMAF content to a Unified-Origin can be found at as a branch of the FFmpeg Live Demo CMAF demo.
Unified Streaming fmp4ingest tools¶

During the evolution of the DASH-IF Live Media Ingest Protocol, a set of tools were developed to enable testing and developement of the standard. These tools subsequently became the reference to demonstrate the wider capabilities of the standard.
These tools (written in C++) allow for CMAF tracks to be posted to a Unified Origin. The advantage of this tool over existing setups allows for all types of VOD files (video, audio, subtitles and metadata) to be pushed to an Origin and simulate the actions of a Live encoder. This software also has the capbility of supporting chunked transfer of tracks for Lower-latency usecases.
The following demo fmp4ingest demo is available to use alongside the source available at fmp4ingest tools.
Media is often encoded as progressive mp4 files with multiple track types (audio/video) and bitrates all stored in the same file. Packaging as CMAF tracks for VOD enables the same media to be utilised for multiple presentation types (DASH/HLS) by storing each tracks type and bitrate in an individual file. This mitigating the need to duplicate media and allows each presentation to use only the tracks is requires.

Unified Packager supports the re-packaging of ISOBMFF files (progressive or fragmented mp4) to become CMAF compliant tracks. Details on how to achieve this can be found at How to packager CMAF.